Greenmax Lighting promotes Earth Hour 2014 with solar camping lights
Greenmax Lighting, Singapore has been participating in Earth Hour for the past two years. This year, we showed our support for and involvement in the green movement by providing the organisers with our Greenmax solar camping lights for the promotion of environmentally-friendly solar lighting.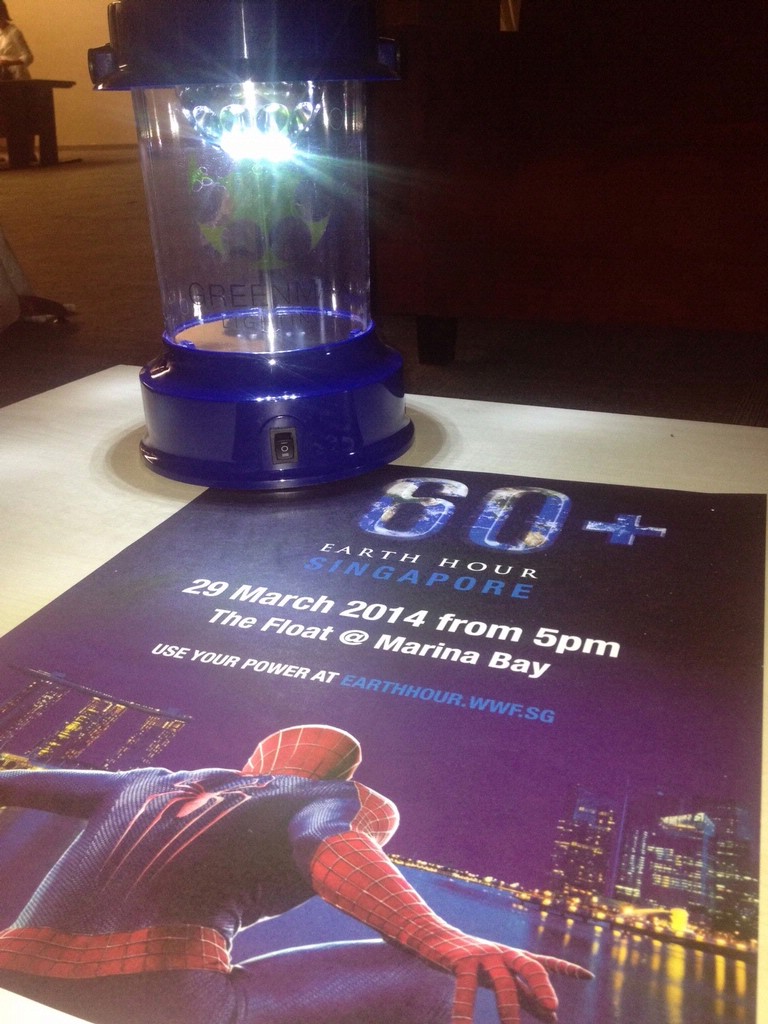 Earth Hour this year coincided with the release of The Amazing Spiderman 2 movie. The message of this year's Earth Hour is that everyone can be a superhero for the planet by using one's power to commit to key actions for the environment, such as switching to LED lighting. The motivations of converting old standard bulbs to LED lighting are numerous and obvious. As can be seen on the
official Earth Hour webpage
, some of the effects of switching to LED lighting can go a long way:
LED reduces monthly energy consumption by 50%.
The life span of a LED light is projected to be from 36,000 hours to about 50,000 hours, compared to 750 to 2,000 hours of a standard bulb. This helps in cutting maintenance costs.
LED lights turn up to 85% of the supplied electricity into light as compared to a standard halogen, which turns up only 10% of supplied electricity into light. The rest of the electricity becomes heat. This means that LED lights can help reduce the heat in a very humid Singapore.
LED lights are mercury free, and they do not emit ultra violet rays or any other harmful gases.
LED lights have higher durability as they can withstand greater intensity of shocks and vibration.
Greenmax Lighting is the only company in Singapore that offers both environmentally friendly, energy saving
LED
and
solar
lighting that can be purchased both online and
at our showroom
. We have lighting options that can help you save phenomenally on energy-usage both at home and in the office, all of which come along with a sizeable warranty that sufficiently shows our confidence in our own products.
Earth Hour 2014 has made Spiderman the
"first-ever Super Hero Ambassador" for Earth Hour
, with the movie cast
turning up in Singapore to show their support
. In appreciation of our contribution, Greenmax staff was invited to a Singapore screening of the movie two days before the official opening in cinemas, along with other contributors like Paypal.
By visiting the
official Earth Hour pledge page
, you can show your support for the environment by making a commitment. You, too, can be a superhero for the planet, by supporting Earth Hour and letting Greenmax Lighting light your path towards a cleaner, greener Singapore!