Greenmax Lighting New Solar-Powered Festive String Lighting
With Christmas and the New Year around the corner, Greenmax introduces the new
solar-powered LED festive string lights
for your home garden and balcony!
Each beautifully designed light converts solar energy into electrical energy via its solar panel and stores it in its own built-in-battery for LED light-emitting purposes in the evening.
Create a warm and romantic atmosphere at home during the festive season with our
easy-to-install, waterproof lighting
. Our 17.5-meter long, 200 -bulb LED lights come in a range of colours like red, yellow, green and white, and can effectively brighten up any decent-sized garden. Simply charge the light with sunlight during the day for 8 hours, and it can continue to shine brightly in the darkness for
up to 8 hours
!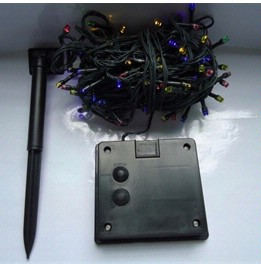 Our multi-coloured, solar-powered LED festive string light. Our festive string lights in action!
Here are a few extracts taken from an article published in the Life! Home & Garden section of The Straits Times (Singapore) titled "Go green with LED Christmas lights" (2013, Dec 14, p. E11), which strongly support the use of energy-saving LED lights in place of old incandescent light strands:
"In 2003, a paper published by the Department of Energy estimated that
holiday lights
accounted for 2.22 terawatt-hours of energy use a year in the United States, which
roughly equals the energy consumed by 200,000 homes annually
."
"(LED Christmas lights) are
up to 90 per cent more efficient
than old-fashioned incandescent bulbs."
"A new strand of LEDs will
last four or five decades
, depending on how long you leave them on. They are also
less likely to start a fire
, which is important when you are wrapping them around a bundle of kindling like a Christmas tree."
"
Old-fashioned incandescent lights would be far, far worse
for the environment: They use
10 times as much electricity
as LEDs and
do not last nearly as long
."
"If you are still harbouring an old strand of incandescent lights, the Earth begs you to ditch it and
go for the LEDs
."

Save money and the environment
with
Greenmax solar-powered LED festive string lights
. Greenmax Lighting wishes all a Merry Christmas and Happy New Year!!!